PVC mixer machine
Xinda precision machinery company has focused on the plastic machinery industry 20 years , rich experienced , strong technology. Professional manufacturing various plastic mixer machine to meet different production demands , and based on the different raw materials characteristics and production process requirements ,we can customize the special mixer. Our products sale well in China market , also exported to 25 countries , such as the Middle East, Southeast Asia, Africa, Canada, Germany, etc. good quality, reasonable design, high automatization and convenient operation win the wide praise from our customers ,please contact Mr John Yu to get details: +86 13301561523 , Email: admin@xinda-machinery.com
SRL-Z series PVC mixer unit, apply to variety resins mixing: such as polyethylene, polyvinyl chloride and other ingredients, mixing, coloring, drying ,also for ABS, polycarbonate and other plastic drying, dehydration process before molding process , also In the phenol resin mixture. The unit combines the hot mix and the cold mix process, after hot mix , the material is automatically discharge into the cold mixer ,then exhaust the residual gas and prevent agglomeration.
◆ SRL series of high-speed mixer unit combine with hot mixer + cold mixer, automatic conversion & discharge.
◆ Spindle sealing device won the national patent.
◆ hot mix with self-friction and electric heating and steam heating function.
◆ double-sealed pot cover. Cold mixer adopt the arched lid, not easily deformed.
◆ has a compact structure, beautiful appearance and so on.
◆ equipped with pulse dust removal device.
◆ the mix blades through the static and dynamic balance test.
SRL-Z series of vertical mixer units main technology parameter :
model
SRL-Z100/300
SRL-Z200/500
SRL-Z300/600
SRL-Z500/1000
SRL-Z800/600
Hot/cool mix
Hot/cool mix
Hot/cool mix
Hot/cool mix
Hot/cool mix
Total volume (L)
100/300
200/500
300/600
500/1000
800/1600
Effective volume (L)
65/195
150/320
225/380
330/660
600/1050
Blade rotation speed (r/min)
650/1300/200
475/950/130
475/950/100
430/860/70
370/740/50
Heating & cooling type
Electric +self-friction / water cooling
Mix time (min)
8-12
8-12
8-12
8-15
8-15
Power (kw)
14/22/7.5
30/42/11
40/55/11
55/75/15
83/110/22
Dimensions (m)
1.95*1.6*1.8
4.58*2.24*2.47
4.8*2.64*2.48
5.6*3*3.1
5.17*3.2*4.48
Weight (kg)
2500
3400
3600
6500
9800
series vertical mixer images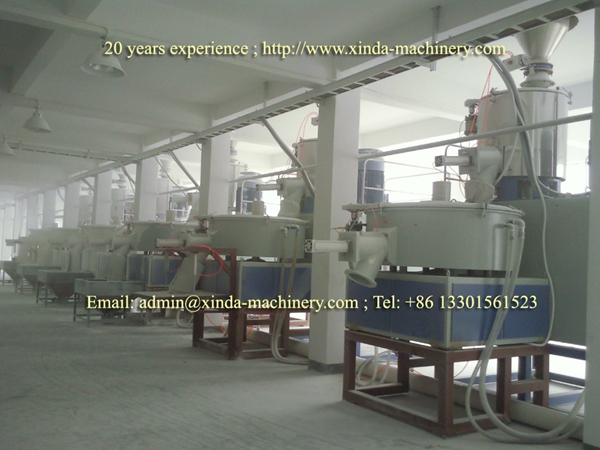 PVC mixer